Kuldiga "Kuldīgas Katrīnas kauss" (LAT)
When:
21 January 2023 @ 5:00 pm – 8:30 pm
Europe/Zurich Timezone
2023-01-21T17:00:00+01:00
2023-01-21T20:30:00+01:00
Where:
Kuldiga Catherina's Cup
Dzirnavu iela 13
Kuldīga, Kuldīgas pilsēta, LV-3301
Latvia

Contact:
Uģis Jocis
+371 256 207 02
Provisional Program / Main events:
Men: 60 m, 60 m Hurdles,  400 m, 1500 m, Pole Vault, Long Jump
Women: 60 m, 60 m Hurdles,  400 m, 800 m, Long Jump
The competition starts at 18:00
Provisional TIME TABLE

Start

event

categorie

heat

18.00

opening ceremony

18.10

400m

m

18.40

400m

w

19.05

1500m

m

19.25

800m

w

19.50

60mH

m

20.10

60mH

w

20.25

60 m

m

20.40

60 m

w

21.00

60 mH

w

final

21.05

60 mH

m

final

21.10

60 m

w

final

21.14

60 m

m

final

18.10

long jump

m

19.00

pole voult

m

20.00

long jump

w
Startlits and Live-results will be available during the event.
---
Archives 2020:
NA
---
Archive 2020
Kuldiga Catherine's Cup in Athletics
REGULATION
Download the printable version (PDF)
1. OBJECTIVE.
To promote athletics in Kuldiga district. To promote and strengthen the contact with the neighboring countries.
2. TIME and PLACE.
The competition will take place on January 18, 2020 in Indoor hall Kuldiga – Dzirnavu street 13, Kuldiga.
The competition starts at 18:00
3. MANAGEMENT AND ORGANIZATION.
The competition is organized and ran by Kuldiga district sports school's athletics department, in cooperation with European Athletic Promotion /EAP/, Latvian Athletics Association /LAA/and Kuldiga City, SC Katrina
Chief Referee - Ugis Jocis  +371 25620702
4. PARTICIPANTS.
The invited international athletes and teams, as well as best Latvian athletes will take part in the competition.
Please consider this regulation as an official invitation to the competition
5. THE COMPETITION PROGRAM,
Women

- 60 m/h, 60 m, 400 m, 1000 m, High Jump, Long Jump

Men

- 60 m/h, 60 m, 400 m, 1000 m, Pole-vault, Long Jump
6. EVALUATION.
The winners will be determined according to rules of track and field athletics
7. PRIZES.
Athletes who have taken the first, second and third place will be awarded with cups, prizes from sponsors and cash prizes - 150, 100, 50 Euro
Payments of the cash prizes: the cash prize is transferred to the participant's bank account no later than 1 week after the competition. 
Record Indoor hall Kuldiga = 100 Euro
8. APPLICATIONS.
To be sent by January 9, 2020 e-mail kuldiga@eap-circuit.org
| | | | | | |
| --- | --- | --- | --- | --- | --- |
| Nr. | Name, Surname | Date of birth | Sports Club | disciplines | Best result in 2019 |
| | | | | | |
| | | | | | |
9. ACCOMODATION AND FINANCIAL CONDITIONS.
Other foreign athletes request to write and ask:
!!!! Info www.kuldigasports.lv, www.athletics.lv and www.eap-circuit.org
CUP events :
150€ + Cup
100€ + Cup
50€ + Cup
Concerns: 60 m men + women, 60 m/h men + women, 400 m men + women, 1500 m men, 800m women, long jump men + women, pole vault men, 
Payments of the cash prizes: the cash prize is transferred to the participant's bank account no later than 1 week after the competition.
EAP records:
400€
(not cumulative with track record but only with Cup events)
Indoor track records:
100€
(not cumulative with EAP record but only with Cup events)
ACCOMODATION AND FINANCIAL CONDITIONS *)
Expenses related to the organization of competition and accomodation of foreign and invited athletes are covered by Sports School of Kuldiga district and compensation of travel expenses:
100€ individual athletes
500€ teams
(*) Please contact the organizer to see if this applies to you.
Kuldiga meet records (indoor)
Kuldiga Catherine's Cup Records
| EVENT | GENDER | MARK | COMPETITOR | DOB | NAT | CLUB | DATE | REMARKS |
| --- | --- | --- | --- | --- | --- | --- | --- | --- |
| 60m | W | 7.38 | Lina Grinčikaite | | LTU | | 2012 | |
| 60m | M | 6.76 | Bosse Berenger-Aymard | | CAF | | 2014 | |
| 60m Hurdles | W | 8.22 | Laura Ikauniece | | LAT | | 2015 | |
| 60m Hurdles | M | 7.83 | Philip Shabanov | | RUS | | 2015 | |
| 300m | W | 38.06 | Gunta Latiševa-Čudare | | LAT | | 2012 | |
| 300m | M | 34.12 | Jānis Leitis | | LAT | | 2016 | National Record |
| 1000m | W | 2.42.30 | Līga Velvere | 1990 | LAT | | 2019 | National Record |
| 1000m | M | 2.23.30 | Renārs Stepiņš | | LAT | | 2015 | |
| 1500m | W | 4.17.07 | Polina Jeļizarova | | RUS | | 2013 | |
| 1500m | M | 3.53.30 | Matyas Tulok | | HUN | | 2014 | |
| Long Jump | W | 6.45 | Aiga Grabuste | | LAT | | 2012 | |
| Long Jump | M | 8.03 | Tomas Vitonis | | LTU | | 2013 | |
| Pole Vault | W | 4.20 | Reena Kool | | EST | | 2014 | |
| Pole Vault | M | 5.52 | Mareks Ārents | | LAT | | 2012 | |
| High Jump | W | 1.82 | Roslava Taisiya | | BLR | | 2013 | |
| High Jump | M | 2.18 | Andrei Churyla | | BLR | | 2012 | |
| Triple Jump | W | 13.64 | Ineta Radeviča | | LAT | | 2011 | |
Hotel Jekaba seta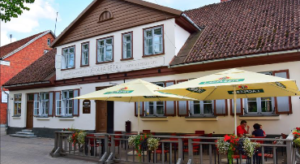 Viesnīca & Restorāns Jēkaba sēta
Liepājas iela 36
Kuldīgas pilsēta
LV-3301 Kuldīga
Latvia
Phone: +371 28631122
E-mail: info@jekabaseta.lv
Jēkaba sēta is located in the heart of Kuldīga, right by the main pedestrian street. Housed in a historic building, it offers modern amenities such as free WiFi.
Each room comes with a private bathroom. Extras include a desk, bed linen and a fan. At Jēkaba sēta you will find a garden, a terrace and a bar. Guests are welcome do dine in the on site restaurant. The property offers free parking. At a surcharge, guest can relax in the hotel sauna.
---
Sia Hotel Virkas Muiža (Sport Hotel VIRKA)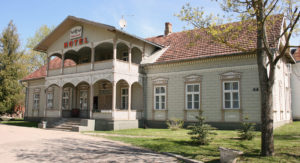 https://virkasmuiza.lv/
Virkas iela 27
LV-3301 Kuldīga
Latvia
Phone: +37 12 206 07 80
Email: hotelwirka@apollo.lv
A building located in the manor house built by Baron Firks in the 16th century. The architectural decoration of the seemingly simple building contains a surprisingly rich range of different details. The first owner of the manor was the knight's successor Jürgen von Firks, who in 1494 slowly received land from the Kuldiga Command of the Livonian Order and built the first house here – one and a half kilometers northwest of the current old Venta bridge on the left bank. In 1620, the owner of Nurmuiža, Christopher Firks, was admitted to the Knights of Kurzeme. By decision of the Russian Empire, the entire von Firks family was awarded the title of inherited baron. He sold the land of the Firks family to Duke Peter Biron, who sold it to von der Brinken from Kurmala, but it to Werner von Behr from Ugāle until one of the famous von Saken bought the manor land. The property has continued to go hand in hand, so the year of construction of the manor house, which can be seen today, is not even known. The manor house of Virka manor was initially built as a summer manor, but later it was included in the construction of Kuldiga city. In the old photos it can be seen that originally the manor did not have Art Nouveau walls and there was a veranda at the end of the building. At the beginning of the 20th century, the building was expanded. As the manor house of Virka manor is the only wooden manor in Kuldiga, since 2014 it has been granted the status of an architectural monument of local significance. The gable roof of the long one-storey house is covered with tiles. On the other hand, a large porch stands out on the facade, above which there is a covered terrace. The edges of the windows are decorated with wood carvings, there was an ornamental silhouette saw at the roof end of the terrace, which has not been preserved. The bay windows used to be crowned with sculptural vases, which are now used as flower pots. In the past, passenger boats and barges ran on Latvian rivers, similarly to the still large rivers in Europe. At the turn of the 19th and 20th centuries, and also in later years, traffic in the lower reaches of the Venta was maintained by steamers with a small draft. At that time, the steamer "Sarja" ran from Kuldiga to Ventspils and back, in later years – the motor ship "Piltene". The berth was built at the water mill of Virka manor, which was the only suitable place for reloading cargo and from where the road to the city went. There is no strong current in this place and the depth and width of the river were sufficient for the ship to turn around. Kuldīga and the people of Kuldīga also did not experience war. This was an alarming time in the manor. At the beginning of the Second World War, a hospital for Russian soldiers was located in the manor. In 1942, during the Forest Days, the pupils of Viļa Plūdonis Gymnasium planted one piece of non-agricultural land with poplars and pines around Virka Manor. 31 oaks were also planted in memory of the Kuldīga residents deported to Siberia. At the end of the war, Kuldīga car-tractor station or MTS was located in Virka manor. Of course, it left a devastating impression on the house. Unfortunately, the fountain was dismantled in the 1970s and parts of it were used as flower pots. farmsteads.
---
Metropole Hotel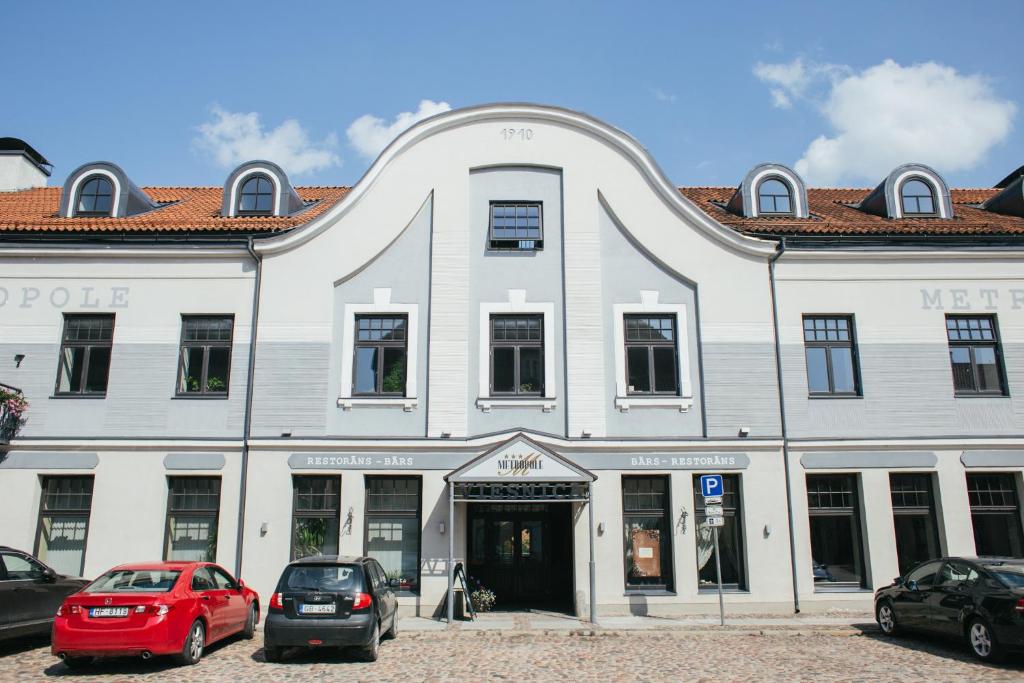 kuldigasmetropole.hotelonia.com/
Baznīcas iela 11
LV-3301 Kuldīga
Latvia
This newly renovated hotel is located in the very heart of the beautiful and romantic old town of Kuldiga. Kuldigas Metropole has been a hotel and restaurant since 1910. There is a garden terrace open during the summer season. The cosy rooms have a view of a pedestrian street or the river. The town's attractions are only a few steps away from the Kuldigas Metropole. These include Ventas Rumba, the widest waterfall in Europe, the longest brick bridge in Europe, the narrow streets in the old town, and the pretty historic houses with their red-tile roofs.

TBD
---
Archives 2020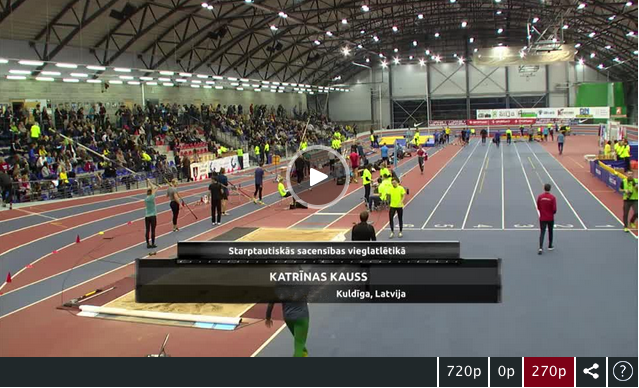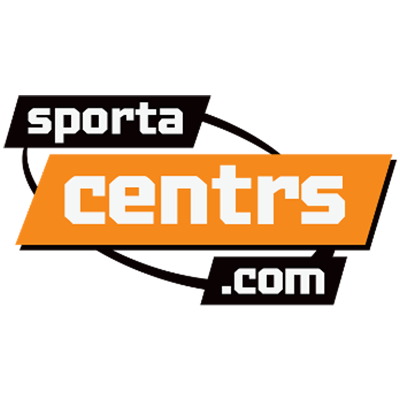 Live TV stream can be watched from sportacentrs.com, starting at 17:50 local time.
NA
---
Archive 2020
Start list and online results are avaibale on: athletics.lv
NA
---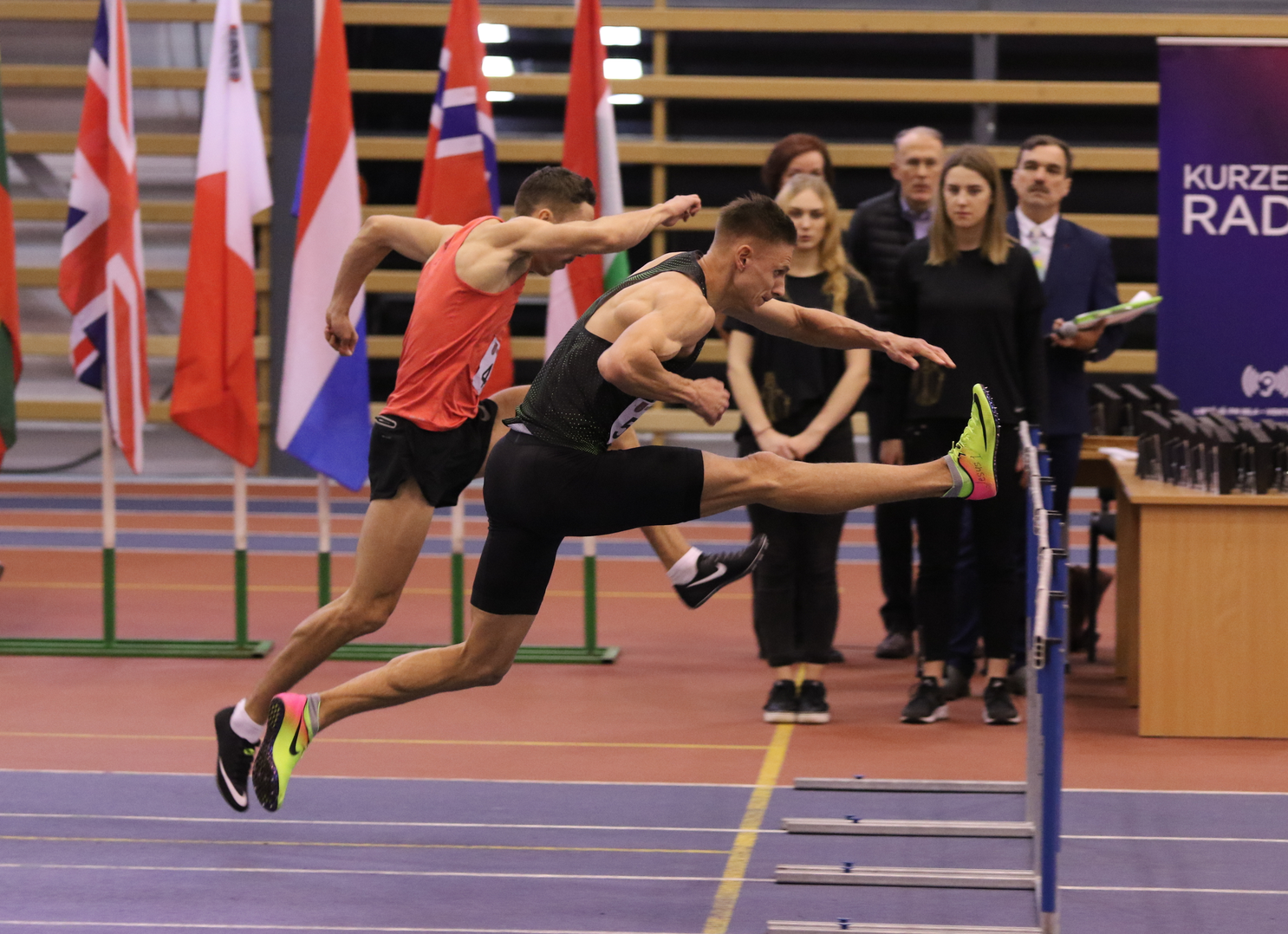 Archive 2020
Kuldiga: great success !
"Sold-out" at the EAP Kuldiuga indoor meet (LAT). A large crowd to assist at the "Kuldīgas Katrīnas kauss"
Freely translated from: https://athletics.lv
158 athletes (97 men and 61 women) from 12 countries gathered in the Kuldiga Athletics Indoor track to compete at the 10th edition of the "Kuldiga Catherine's Cups". The jubilee had also attracted an unusually high number of spectators - Kuldiga had not seen so many spectators long ago. And the athletes responded with intense fighting and high-quality results.
60m sprint. The Estonian sprinter Henri Sai dominated the event. He was fastest in both the pre-qualifier with 6.86 sec and the final with 6.84 sec. Third with a score of 7.04 sec. - Christopher Cham. Elvis Misan was also fast in the pre-qualifier (6.94 sec), but after winning the long jump he gave up his start in the final race.
In the women's finals, the race record was also nearly broken (7.34 seconds by Sindija Bukša 2019). However, the victorious Gina Akpe-Moses missed Ireland by three hundredths of a second (7.37sec). Second place winner Sindija Bukša finished her season with a time of 7.51 sec. Good results for Līgai Vecbērzai (4th in final 7.57 sec, in the heats 7.55 sec).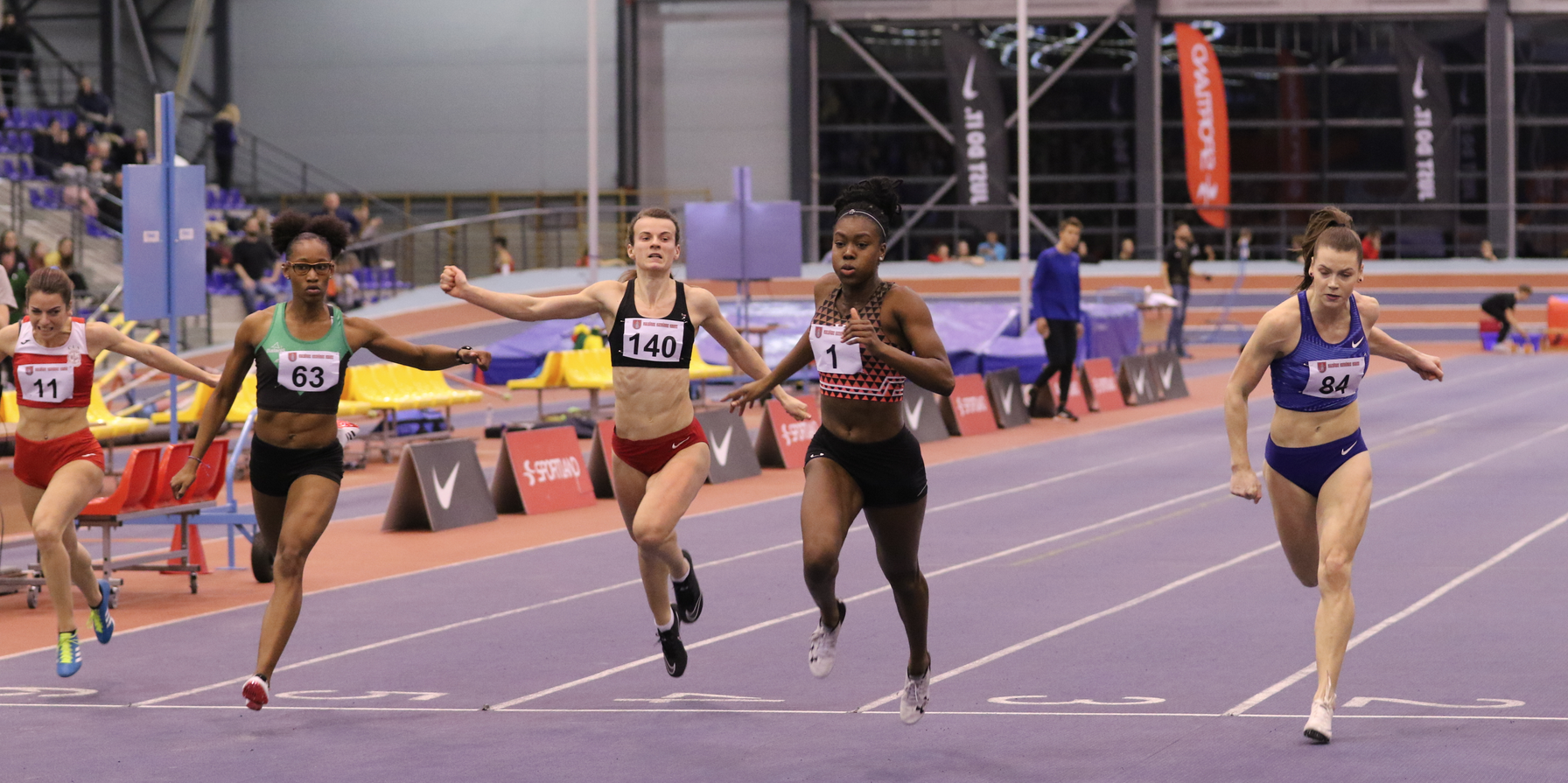 400m Iļjas Petrušenko's victory with an excellent personal record of 47.88 sec. This is not only the repeated "Cup" record, but also the ninth result of all time Latvian runners in indoor starts. In the third place, the best Latvian 400m hurdler Maxim Shinukov - 47.89 sec.
In the women's 400m, just a little better than the Latvian athlete Māru Annu Zīverti (56.96 sec) was Kima Rozena from the Netherlands (56.92 sec). Here, too, third place for Latvian Patrīcijai Cīrulei (57.95 sec).
1000m A true and stormy ovation was sparked by the victorious finish of the homemade Uģis Jočis in the 1000m distance - 2:26.64. Third place winner Oskars Bambals could be happy and pleased. His performance of 2: 28.00 is a new record for Latvian junior (U20) indoor.
The Belarus Tatsiana Šabanova dominated the women race. Her performance (2:42.88) was only half a second behind Līgas Velveres's "Cup" and last week's record (2: 42.30).
60m Hurdles Both winners in this discipline have the same last name - Parakhonka. Both are from Belarus and both hurdlers have achieved very good results. Vitaly Parakhonka twice corrected the "Cup" and the manege record (7.83 sec) - 7.82 sec. And in the final - 7.81sec. Sviatlana Parakhonka, on the other hand, got close to these records (8.22sec) and won with a score of 8.24 sec. achieved the highest competition grade (WA tables) - 1107 pts.
Among Latvian hurdlers the most successful was junior Patrīcija Ozoliņa, who finished fourth with the best result of the season in Latvia - 8.86 sec.
High Jump women more modest results. Viešna from Lithuania Urte Baikštite was the best with a score of 1.80 m. Second Zane Zemīte - 1.71 m and third Amanda Savicka - 1.68 m.
Unlocking our leader Marekam Ārentam, Ēriks Greibrok Dolve from Norway won his third Cup win. In the third place Juris Avsiščers and Uvis Strazdiņš - 4.15 m.
Men's Long jump sixth win in the Cups was fought by Elvis Misan and also won. True, after two unearned jumps, he had to catch up and reach the finals. Elvis did the honor - two long jumps - first at 7.49m and finally at 7.50m. Along with two victories in the 60m sprint, Elvis now has eight "Kuldiga Katrina Cups".
In the first jump for women, Ruta Kate Lasmane - 5.89 m. However, in the final jump, she was overtaken by the British distance jumper Rebecca Chapman - 5.90 m.
Last year's anniversary competition showed that athletes, and spectators in particular, are very much at the heart of such a long but intense competition.
Hopefully a new decade of "Cups" will start in Kuldiga in a year.
Andris Staģis
---
2019:
With high results ended Kuldiga Catherine's Cup in Athletics
[author: 21.1.2019. KARLIS KOMAROVSKIS, Kuldiga municipality public relations specialist]
In 19. January for the ninth time in a row at Kuldiga Athletics manege took place "Kuldiga Catherine's Cup in Athletics". In this year's competition with high results stood out Liga Velvere in 1000 meters run and broke Latvian national record, but in 60 meter sprint Sindija Buksa was two hundredths of a second away from setting national record.
As always Kuldiga Catherine's Cup in Athletics gathered a big crow with spectators and filled up stands. In opening ceremony Kuldiga municipality chairman Inga Berzina wished all athletes to have joy in competition and give all their best to achieve goals. After I. Berzina speech a group of little kids made an honor circle and Kuldiga Catherine's Cup in Athletics was officially opened.
For great pleasure to spectators Liga Velvere in 1000 meter run set a new national record. L. Velvere finished distance in two minutes and 42.3 seconds improving previous record for almost three seconds. In women long jump competition victory laurels went to Mara Griva, who made 6.36 meter long jump. In second place finished Erica Jarder from Sweden with result 6.06 meters, but bronze medal earned Ruta Kate Lasmane. In 400 meters first place won Gunta Vaicule and with result 54.34 seconds set new hall record.
In 60 meter women sprint with impressive 7.34 second result competition won Latvian rising star Sindija Buksa. She was two hundredths of a second away from surpassing Vineta Ikauniece record – 7.32 seconds.
In 60 meter men sprint unbeaten was Confidence Lawson from Great Britain, who with result 6.77 seconds was crowned winner. In 60 meter hurdle run with result 7.95 seconds best was Lithuanian sprinter Rapolas Saulius. In 400 meter run fastest was Latvian runner Austris Karpinskis (48.34 seconds), but in long jump with 7.52 meter far jump gold medal earned Elvijs Misans. Finally in pole vault best was Charlie Myers from Great Britain, who jumped over 5.30 meter bar.
KARLIS KOMAROVSKIS, Kuldiga municipality public relations specialist
---
Six victories and a new Latvian record in the Kuldiga Catherine's Cup
In Kuldiga IX "Katrina's Cup" Līga Velvere sets Latvian record in 1000m - 2: 42,30 and Latvian athletes celebrate victories in six disciplines.
Source: https://athletics.lv/lv/article/3187/sesas-uzvaras-un-jauns-latvijas-rekords-kuldigas-katrinas-kausa.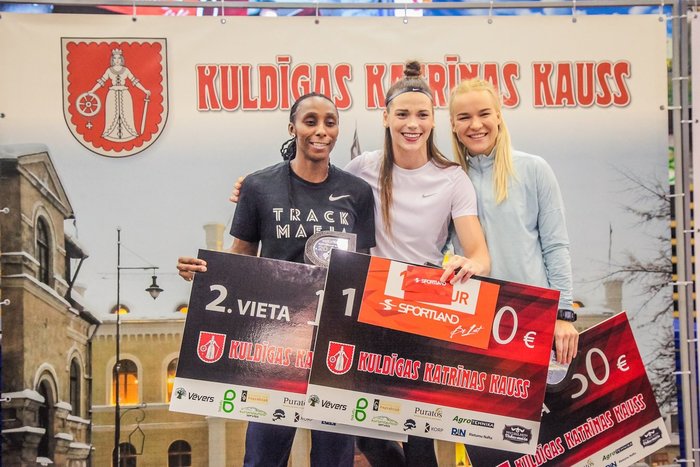 Andris Staģis, Statistiķis, 20/01/2019 11:40
That's right - our track record in six disciplines and a new Latvian record in the 1000m race. This is the promising final outcome of the traditional Kuldiga Cup of Catherine in 2019. For the ninth time, Kuldiga Athletics Manor's full-blown spectator stands on Saturday evening enjoyed nearly 200 athletes from 12 countries, competing in 12 disciplines. At the end of the competition we were able to find that in three disciplines the competition records (twice as high as the manor record) were corrected and one of them was even Latvian record in the premises (Līga Velvere 1000 m - 2: 42,30). Domestic athletes were triumphed, and three winners went to Lithuania and the UK. The high level of results is also evidenced by the fact that the scores of 11 (out of 12) discipline winners are scored above the 1000-point limit by IAAF score tables. There were 27 of them. Highest value: for women Sindija Bukša - 60 m - 7.34 sec. - 1104 p. and men in Charlie Mayer (UK) jumping - 5.30 m - 1075 p.
Men
60 m Twice (pre-race and finals) 60 m sprint distance 6.77 sec. conducted by Confederation Louson (UK). Elvijs Misans also ran faster than 7 sec. - 6.91 sec (just like Reinis Currant - 6.96 sec), and finals - 7.12 sec. and sixth place.
400 m. In the final, strongest race, the winner of the victory last year was the winner of the last year and the "Cup" record (47.88 sec.) Austris Karpinskis with Giuseppe Leonardi (Italy). However, at the finish, the first was Austris - now the double winner. With this season's best result in Latvia - 48.34 sec. Alexander Kuchs also delighted - 49.30 sec. (V. 4).
1000 m Lithuanian runner Benediktas Mickus - 2: 29,07 - won the finish with a beautiful finish fin and our Albert Blaj - 2: 30,40 finished third, which is also the best result this year among Latvian runners.
60 m Hurdles. The fastest in the final round was the Lithuanian barrier duo, who were the only ones to "drop" under the eight-second limit: Rapolas Saulius - 7.95 sec. and Martin Washinsk - 7.99 sec. Kristaps Sietins, who won the third place in the season with the best score - 8.03 sec. (only 0.03 seconds worse than the personal record). Interestingly, in the new Maltese record rooms, Daniel Salib reached 8.53 sec.
Trapping. For the first time, a successful start for this season was also given to Marek Arent. True, with only a third attempt, he made a starting height of 5.10 m. However, the British jumper Charlie Majers also beat the height of 5.30 m. However, Ildze Bortaščenoka's new personal record was pleased - 4.10 m.
Long Jump. Elvis Misan celebrated his seventh victory in "Katrina Cups", jumping 7.52 m in the first jump (another jump of 7.51 m). For Elvis, this was already the fifth success in the long jump sector. And with the best results in the season.
Women
60 m Best of all in Kuldiga, she showed Latvian athletes to win four wins. Especially our fastest sprinter Sindija Bukša. She made her first record with a new personal record of 7.38 seconds, which was also a record record for the famous Lithuanian Linas Grinchikite. In the final round, Sindia "threw" another four hundredths of a second and now the result is 7.34 seconds. for just 0.02 sec. lagged behind the record of Vineta Ikauniec in Latvia (1988). In the world's best provisional list, Sindia's result is right after the first ten.
400 m. The race record was also corrected by our fastest 400m runner Gunta Vaičule. She was also struggling with Lithuanian Evu Misiunait. However, at the finish, Gunta was the first - 54.34 seconds for 0.15 seconds. ahead of Eva.
1000 m Līga Velvere was in the lead from the first to the last distance meter. The success of the victory was further enhanced by the result: a new record for Latvia (including "Cups" and a mansion) - 2: 42,30. Evaluating according to the IAAF scorecards, the second highest score of the competition was 1101 p.
60 m Hurdles. Relatively convincing victory with 8.51 sec. celebrated by British runner Gabriela Ade-Onodobi. Second with result 8.93 sec. (pre-race - 8.91 sec.) was multi-fighter Ilona Dramačonoka. The juniors were more joyful (for the first time the "high" women's barriers ran), also the result of a multi-fighter, last year's European youth champion Kristīne Blaževičs. 8.74 sec - This is also the best result this season.
High jump. Though the guest from Lithuania - Urte Bakištite won the victory - 1.79 m, the new personal record of 1.77 m (on May 8, 2003) in Jēkabpils, Lāsma Zemīte, was a real pleasure. Also this season the best result among the Latvian high jumpers.
Long Jump. The winner Māris Grīva also has a leap of 6.36 m this winter. It is nice to see that in Ventspils without a sister Grīvi, another potentially good long distance developer - the world's fifth best junior three-legged Ruta Kate Lasmane. This time, the third place with a score of 6.03 m (a month ago in Ventspils - 6.07 m).
Next year, Katrina Cups will celebrate the tenth anniversary of this competition, bringing together not only a wide audience of audiences, but also high-profile domestic and foreign athletes.
Andris Staģis
---

Sešas uzvaras un jauns Latvijas rekords Kuldīgas Katrīnas kausā
Andris Staģis, Statistiķis, 20/01/2019 11:40
Kuldīgā IX "Katrīnas kausā" Līga Velvere labo Latvijas rekordu 1000 m skrējienā – 2:42,30 un Latvijas vieglatlēti svin uzvaras sešās disciplīnās.
Tieši tā – mūsu vieglatlētu uzvaras sešās disciplīnās un jauns Latvijas rekords 1000 m skrējienā. Tāds ir 2019. gada tradicionālo Kuldīgas "Katrīnas kauss" starptautisko sacensību daudzsološais gala iznākums. Jau devīto reizi Kuldīgas Vieglatlētikas manēžas pilnās skatītāju tribīnes sestdienas vakarā priecēja 12 valstu gandrīz 200 atlēti, sacenšoties 12 disciplīnās. Sacensībām beidzoties varējām konstatēt, ka trijās disciplīnās laboti sacensību rekordi (divkārt arī manēžas rekordi) un viens no tiem bija pat Latvijas rekords telpās (Līga Velvere 1000 m – 2:42,30). Seškārt triumfēja pašmāju vieglatlēti, bet pa trim uzvarētāju balvām aizceļoja uz Lietuvu un Lielbritāniju. Par rezultātu augsto līmeni liecina arī fakts, ka 11 (no 12) disciplīnu uzvarētāju rezultātu vērtējums pēc IAAF punktu tabulām pārsniedz 1000 punktu robežu. Kopā tādu bija 27. Visaugstvērtīgākie: sievietēm Sindija Bukša – 60 m – 7,34 sek. – 1104 p. un vīriešiem Čārlijs Majers (Lielbritānija) kārtslēkšanā – 5,30 m – 1075 p.
Vīrieši
60 m. Divkārt (priekšskrējienā un finālā) 60 m sprinta distanci 6,77 sek. veica Konfidenss Lousons (Lielbritānija). Priekšskrējienā Elvijs Misāns arī skrēja ātrāk par 7 sek. – 6,91 sek. (tāpat kā Reinis Kreipāns – 6,96 sek.), bet finālā – 7,12 sek. un sestā vieta.
400 m. Pēdējā, spēcīgāko skrējienā ļoti sīvi par uzvaru cīnijās pērnā gada uzvarētājs un "Kausu" rekordists (47,88 sek.) Austris Karpinskis ar Džuzepi Leonardi (Itālija). Tomēr finišā pirmais bija Austris – tagad jau divkārtējs sacensību uzvarētājs. Ar šosezon labāko rezultātu Latvijā – 48,34 sek. Priecēja arī Aleksandrs Kucs – 49,30 sek. (4.v.).
1000 m. Ar skaistu finiša spurtu uzvaru "izrāva" lietuviešu skrējējs Benediktas Mickus – 2:29,07 un kā trešais finišēja mūsu Alberts Blajs – 2:30,40, kas arī ir šosezon labākais rezultāts starp Latvijas skrējējiem.
60 m barjerskrējiens. Finālskrējienā ātrākais bija lietuviešu barjerskrējēju duets, kuri kā vienīgie "palīda" zem astoņu sekunžu robežas: Rapolas Saulius – 7,95 sek. un Martinas Vrašinskas – 7,99 sek. Priecēja Kristaps Sietiņš, kurš trešo vietu izcīnija ar sezonā labāko rezultātu – 8,03 sek. (tikai 0,03 sek. sliktāk par personīgo rekordu).Interesanti, ka šajās sacensībās jaunu Maltas rekordu telpās sasniedzaDaniels Saliba - 8,53 sek.
Kārtslēkšana. Pirmo reizi veiksmīgs starts šosezon padevās arī Marekam Ārentam. Tiesa, ar tikai trešo mēģinājumu viņš veica sākuma augstumu 5,10 m. Tomēr britu lēcējs Čarli Majers pieveica arī augstumu 5,30 m. Toties iepriecināja Ildzes Bortaščenokas jaunais personīgais rekords – 4,10 m.
Tāllēkšana. Savu septīto uzvaru "Katrīnas kausos" svinēja Elvijs Misāns, jau pirmajā lēcienā aizlēcot 7,52 m (vēl viens lēciens – 7,51 m). Elvijam šis bija jau piektais panākums tieši tāllēkšanas sektorā. Pie tam ar sezonā labāko rezultātu.
Sievietes
60 m. No vislabākās puses sevi Kuldīgā parādija Latvijas vieglatlētes, izcīnot četras uzvaras. It īpaši mūsu ātrākā sprintere Sindija Bukša. Jau priekšskrējienu viņa veica ar jaunu personīgo rekordu – 7,38 sek., kas bija arī atkārtots slavenās lietuviešu sprinteres Līnas Grinčikaites sacensību rekords. Finālskrējienā Sindija "nometa" vēl četras sekundes simtdaļas un tagad rezultāts 7,34 sek. par tikai 0,02 sek. atpalika no Vinetas Ikaunieces Latvijas rekorda (1988.g.). Pasaules labāko provizoriskajā sarakstā Sindijas rezultāts ir tūlīt aiz pirmā desmita.
400 m. Sacensību rekordu laboja arī mūsu ātrākā 400 m skrējēja Gunta Vaičule. Arī viņai bija spraiga spēkošanās ar lietuvieti Evu Misiunaiti. Tomēr finišā Gunta bija pirmā – 54,34 sek., par 0,15 sek. apsteidzot Evu.
1000 m. No pirmā līdz pēdējam distances metram vadībā bija Līga Velvere. Uzvaras panākumu vēl vairāk priecēja rezultāts: jauns Latvijas (arī "Kausu" un manēžas) rekords – 2:42,30. Vērtējot pēc IAAF punktu tabulām, Līgai otrs sacensību augstvērtīgākais rezultāts – 1101 p.
60 m barjerskrējiens. Samērā pārliecinošu uzvaru ar rezultātu 8,51 sek. svinēja britu skrējēja Gabriela Ade-Onodžobi. Otrā ar rezultātu 8,93 sek. (priekšskrējienā – 8,91 sek.) bija daudzcīņniece Ilona Dramačonoka. Vairāk priecēja juniores (pirmo reizi skrēja "augstās" sieviešu barjeras), arī daudzcīņnieces, pērna gada Eiropas jaunatnes vicečempiones Kristīnes Blaževičas rezultāts priekšskrējienā. 8,74 sek. – arī šosezon labākais rezultāts.
Augstlēkšana. Lai gan uzvaru guva viešņa no Lietuvas – Urte Bakištite – 1,79 m, patiesi priecēja jaunās (dz.2003.g. 8.maijā) jēkabpilietes Lāsmas Zemītes jaunais personīgais rekords – 1,77 m. Arī šosezon labākais rezultāts starp Latvijas augstlēcējām.
Tāllēkšana. Uzvarētājai Mārai Grīvai arī šoziem tālākais lēciens – 6,36 m. Patīkami vērot, ka Ventspilī bez māsām Grīvām veidojas vēl viena potenciāli laba tāllēcēja – pasaules piektā labākā junioru trīssoļlēcēja Rūta Kate Lasmane. Šoreiz trešā vieta ar rezultātu 6,03 m (pirms mēneša Ventspilī – 6,07 m).
Nākamgad "Katrīnas kausi" svinēs jubileju – desmito gadskārtu, kopš šīs sacensības pulcē ne tikai kuplu skatītāju auditoriju, bet arī augsta līmeņa pašmāju un ārzemju vieglatlētus.
Andris Staģis
The meet values:
To promote and strengthen the contact with the neighboring countries.
The history of the city of Kuldiga
---
One of the most beautiful towns in Latvia - Kuldīga.
The architecture, the ancient houses, the hills and the valleys of the town, the colours red, ocher, green, gray, and a little bit of pastel. Fall, winter, spring, and summer - the town maintains its charm all throughout the year. Kuldīga has established and maintains a strong link with culture and art.
The true richness of the town is its people. The town is architecturally preserved, there are no plastic windows and doors. Here you can have a good time and a great meal. Sophisticated cultural life, tranquility and the charm of a small town, that is Kuldīga. And there is no other place like Kuldīga.
SIGNIFICANT EVENTS IN KULDĪGA HISTORY
Year 1242
The first mentioning of Kuldīga in a written form.
Year 1355
The town gets its coat of arms depicting Saint Catherine. The image hasn't been altered since.
Year 1368
The first mentioning of Kuldīga as a participant of the Hanseatic League. Through Hansaetic routes Kuldīga exports eels, lamprey, salmon and other fish caught in the Venta river, and trades crop, leather, linen and timber.
Year 1596
Kuldīga becomes one of the main residencies of the duke of Courland (Kurzeme). From 1596 to 1616 it is the capital of Courland.
Year 1610
Jacob Kettler (better known as Duke Jacob) is born in Kuldīga. Under his rule the Duchy of Courland was brought to its greatest peak in wealth and even engaged in colonization. Remembered as a fair ruler who also knew Latvian and was well-disposed towards the local peasants.
Year 1615
The old brick bridge across Venta river is being destroyed by flood and an unfortunate fire causes a great deal of damage to city's wooden structures. A special fishing method called "tači" is being installed on the Ventas Rumba waterfall, catching up to 100 salmon fish per day that would later on be transported to Jelgava to be used in the court of Duke Jacob. The method was used until 1930's, when it was banned.
Year 1750
The Kuldīga castle is being demolished and the materials form its ruins are used to build new houses for the local inhabitants.
Year 1874
The famous Kuldīga brick bridge is built. To this day it's the third longest bridge in Europe!
Year 1878
Matchstick factory ''Vulkāns'' is being established. At this point, many small industrial enterprises are being established, and some of them would grow to employ more than 100 people. Kuldīga is producing goods of great diversity: needles, cigars, soap, vodka, liqueur and even mineral water.
Year 1980
Hansa City Union is being reestablished, called the Hanseatic League of New Time (also known as the New Hansa). Kuldīga is a regular participant of the Hansa Days of New Time – an annual international festival of its member cities – since 1994.
Year 2007
Kuldīga receives the international title "European Destination of Excellence"
Year 2008
The old town of Kuldīga receives the European Heritage Label as one of the most unique 17th - 18th century wooden architecture ensembles in Latvia.
Year 2009/2010
The old red brick bridge over Venta river is being renovated.
Year 2013
Kuldīga Restoration Centre receives the EU prize of cultural heritage – ''Europa Nostra''.