Announcing the 33d Annual EAP Convention : Catania 3-5 November
Dear reader,
At the beginning of November the annual EAP Convention will take place, whose headquarters will be Catania.
Members from the 11 current countries will meet at the Hotel Nettuno **** to discuss organisational issues, development projects and the place of our circuit within the European panorama of meetings.
New meet organisers are welcome to join the circuit.
What values do we bring, why does our ability to engage athletes always correspond to their expectations (and concerns) and why has this turned into a great success?
Why can we say that the Quality Meeting Program (QMP) and Code of Conduct (including the I Run Clean® program and adherence to the safeguarding principles) represent not only our strategy and our visit card but also our best asset to affirm the role that our circuit plays at the level of European athletics movement and this despite (and with) the constraints linked to the much discussed imposed ranking system?
The annual Convention will consider the many aspects, and the difficulties too, to continue to represent a valid alternative to the development and promotion of athletics which is so close to our hearts and which we summarize in a single word trueathletics.
2024 is a very important year with (but not "only") the European Championships in Rome ( Fri 7 to Wed 12 June) and the Olympic Games in Paris (Thu 1 August to Sun 11 August).
The EAP circuit, will issue its 2024 provisional program, immediately after the EAP Convention and will be available on our homepage eap-circuit.eu.
The circuit meetings this year display the incredible performance of 9 EAP records (7 men's and 2 women's) and the clear progress of certain meetings.
And without forgetting more than fifteen Future categories (U18 and younger), which is very pleasing, considering that we represent probably the first international event for these young athletes, some of whom will not be doubt it, leading international athletes, as (our) history systematically proves it.
Four meetings are currently part of the World Continental Tour (3 Challengers and 1 Bronze) and in 2024 we plan to have at least 3 new Challenger labels, bringing the number to 7 meetings, or possibly more!
Join the 2024 EAP circuit
Some organisers have already applied and we are currently evaluating their applications.
Are you also interested ?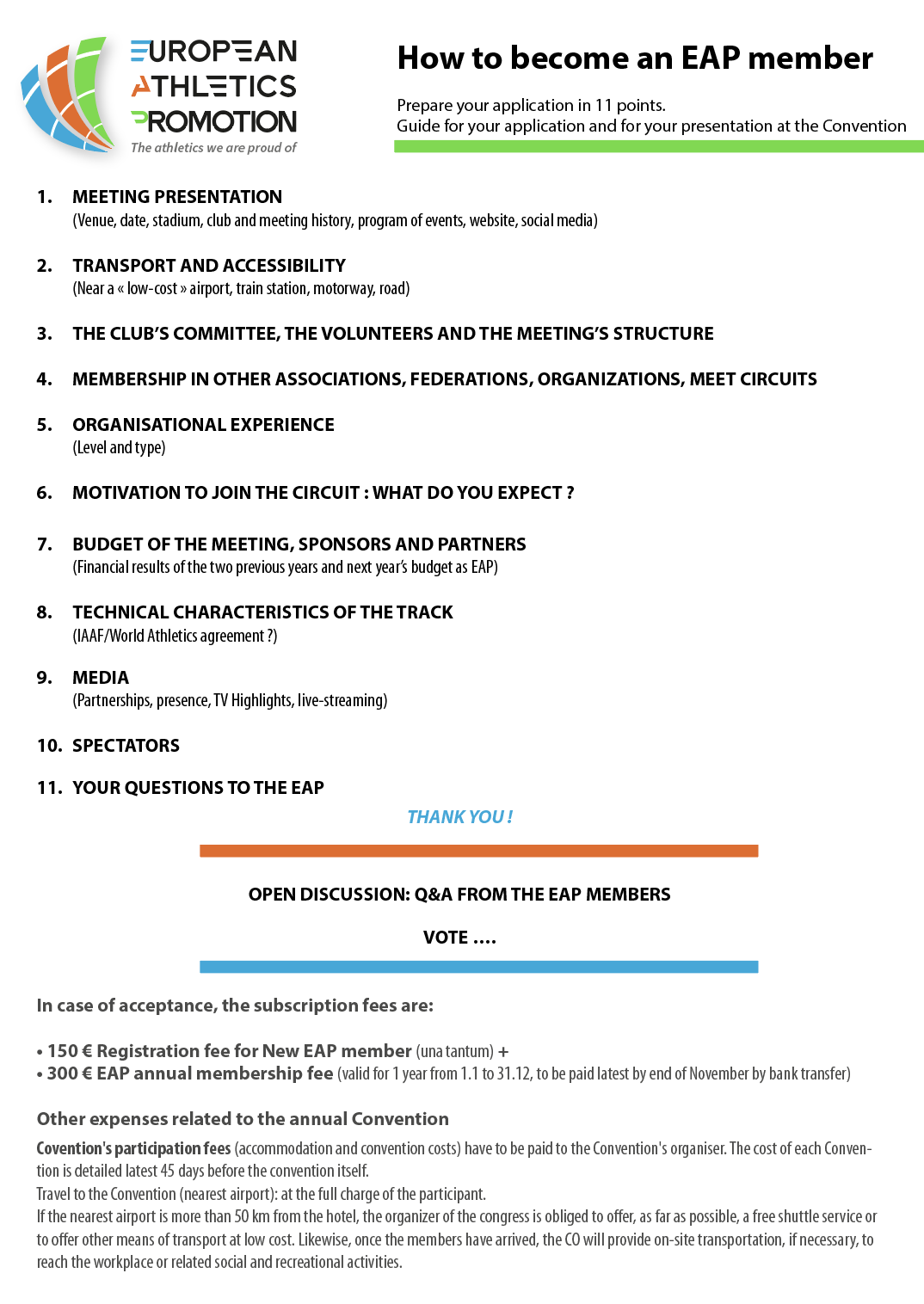 We are still open to other proposals (learn more about the application process), remembering that our circuit also offers, indoors, youth, masters, para-athletics meetings but also competitions outside the stadium.
New candidates can contact us to obtain information on the requirements to join our circuit, whose presence at the annual Convention is mandatory.
Application files must reach us by October 10: more information are available here.
Maybe you will be part of our growth and expansion ?
We would be happy to add new countries and also quality and original meetings.
In behalf of the EAP circuit,