Who we are
It mainly aims to promote, develop and disseminate the sporting activity linked to the practice of athletics, through:
a) The assistance given to the various organising committees for the organisation of EAP meetings with the aim of improving their quality;
b) The introduction of a system of cooperation and collaboration between the various organising committees through their EAP Delegates;
c)

The promotion of exchanges between athletes from different countries;

d)

Attractive logistical and communication support and tools to help and facilitate meeting organisers (MO) in the promotion, organisation and development of their event.
_______
Extract from the Standards & Regulations (Art. 02)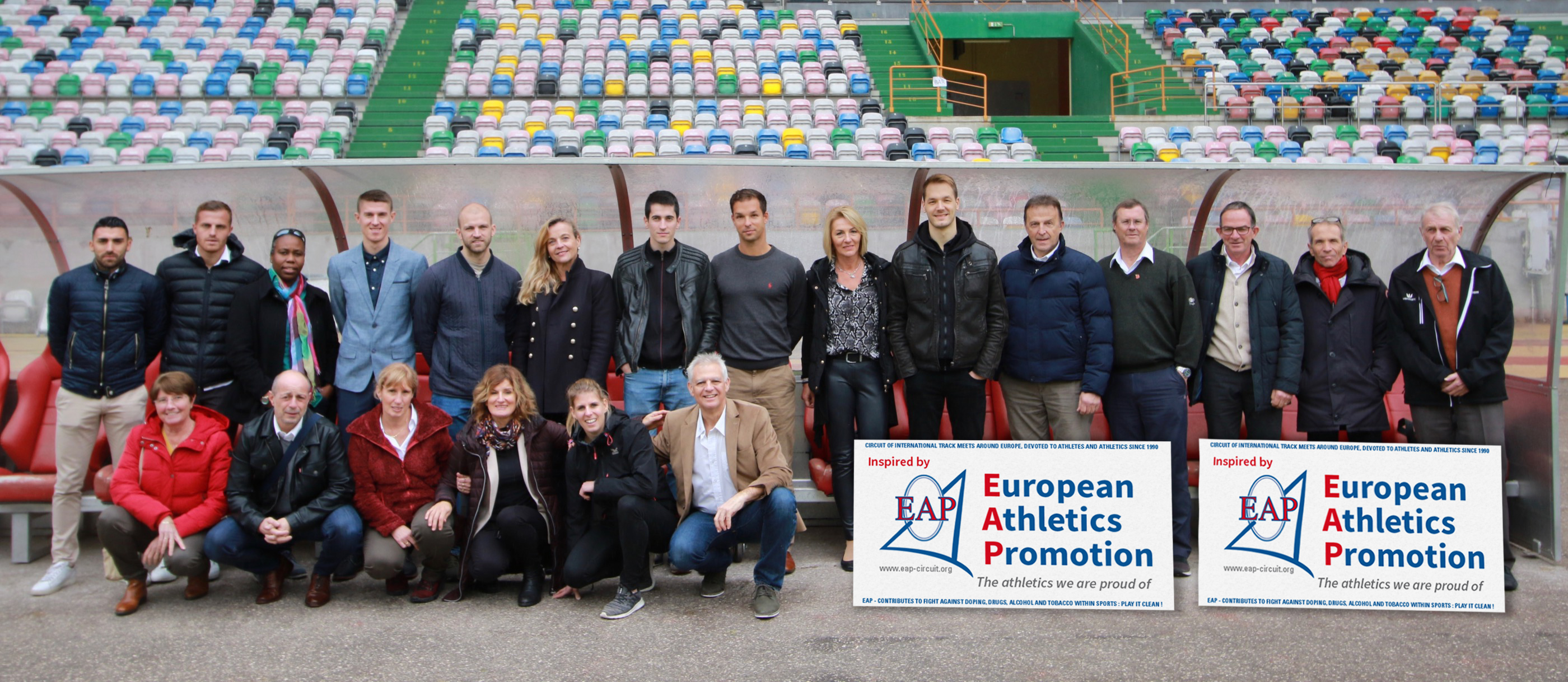 Where do we come from ?
The EAP circuit is simply the product of an original idea, a project, an ideology initially shared by three people, young coaches and meeting organisers, who met by chance in 1987. After visiting each other meetings in 1988 and 1989 and establishing a solid friendship they thought they could create a circuit of meetings : it would be nice if meetings were like this ..., if athletes could move more easily from one meeting to another ..., if they were given the conditions to outdo themselves ...
Let's do it!
The EAP was born, outside the usual patterns, without any constraints. In the purest conception of independence.
We will call it Europe Athlétisme Promotion, suggests Noël Levêque, future president of the circuit. And our logo will symbolize our three meetings, as a triangle, throughout Europe. The circuit has indeed grown very quickly, conquering new countries and still receiving the full support from the organisers and participants. And the original idea remained the same: promote athletics. 
Where to find strong foreign competition, identical reception conditions for all athletes, a high-level technical organisation?
The EAP circuit concentrates all of this, with a lot of passion and generally little money. And it is perhaps thanks to this independence that the circuit continues to develop and to receive the praise of all. So much so that the federations tacitly recognized us, included in their calendars and used as selection meetings.
The founders
Mr Noël Levêque, Nivelles (Belgium)
Mr Giorgio Ferrando, Celle Ligure (Italy)
Mr Pablo Cassina, Genève (Switzerland)
The founding members defined the guidelines, the fundamental principles which govern the original idea of ​​the EAP circuit.
They have drawn up the EAP Manual (now "Standards & Regulations") in which are described the bases of operation and collaboration between organisations, the rights and duties of each member and provides the necessary information concerning the method of calculating internal travel reimbursements.
The validity and respect of these principles and rules were initially presented at the first Convention, in Genova (It), at the Indoor European Championships, on February 28th, 1992 (see opposite). Since there, those fundamental principles are presented and discussed each year at the annual Convention.
The first EAP Convention: Genova (It), 28th February 1992 at the Indoor European Championships (28 february / 01 March 1992)
When the EAP circuit started in 1990, its founders firmly believed they should encourage the particiption of "the most committed" local athletes into international meetings around Europe. The simply fact to give them this opportunity and privilledge, would boost their motivation. Immediately these athletes started to travel to as much meetings as possible, discovering new countries like Italy, Spain, Belgium, Switzerland, the Netherlands, Ukraine, the Luxemburg, Mallorca, London ...
Let us remember what Europe was like at the time !
The fall of the Berlin Wall (editor's note, November 9, 1989) coincides with this period in full effervescence and with an immense thirst for discovery, travel, meetings of people and cultures.
These were the early 90s:
no low cost flights (but travel by car or mini-vans, sometimes during days or even weeks !),
no mobile phones (but letters and then facsimiles),
no single currency (but a different currney in every country),
no internet, no websites, no Google, no social media (but flyers, pamphlets and invitations by post and physical presence and talks),
no digital camera (but manual reflex camera with 24 or 32 poses per film),
no online bookings  (but travel agencies to book each flights),
no Schengen agreements on free movements of the persons (but 2-3 months to maybe get a visa),
no (or very limited) foreign TV channels (but national TVs),
no (or very limited) computers and softwares to manage the athletes' registrations (but paper and pencils and copiers)
no globalisation in food, currency, culture,

industry and crafts, customs and traditions, 

... (but real differences and behaviours in each country)
…
Rapidly our circuit grew and athletes were enthousiastic and interested to the idea to participate in other countries where they would find strong foreign competitors (and already thinking to going back the next year) and the incredible opportunity to travel around several countries and discover all the differences.
New meets joined our circuit and new athletes where more and more excited to participate in new countries. And so they did, year after year, involving more and more people. This incredible success was seen, and still is, with some misunderstanding, suspicion, sometimes jealousy.
Because our meets go out of the usual patterns and do not rely on the economic strength to attract top-level athletes. On the contrary !