Annual conventions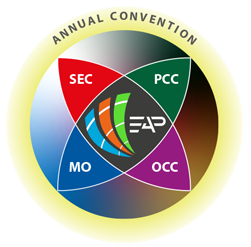 The annual convention, organised alternately by our members in their home city where regulations, projects, goals, communication & marketing, finances, quality meeting, code of conduct, schedule and admissions are discussed and decided together.
The governing body is the General Assembly, and it's composed by the SEC (Steering and Executive Committee), the PCC (Permanent Core Commission), the councillor, member of the OCC (Organising & Council Commission) and the responsible of our 5 sectors (EAP-Elite, Future, Together, Running and Masters).
EAP is an association and its statutory General Assembly precedes the Convention.
(Scroll down to get all the details)
Celle Ligure is hosting the 2022:
32nd EAP Convention
Join us on 4-6 November 2022 !

How to submit a request to organise a meet agreed by the EAP? Deeper details in our "Become a member" section (deadline to send application is set to Tuesday October 11th, 2022).
Conventions
Celle Ligure (ITA) welcomes the 32nd EAP Convention
4, 5, 6 November 2022

More information to come.