Download Center
Current and past files for our structure, regulations and all other useful files are available here.
Standards and regulations
Official EAP Opening short text
Communication & Marketing
Convention Minutes and Reports
Archive EAP OLD logos (all)
EAP speaker (or Meet director) official opening short text:
"Welcome to the [XX] International meeting of [name of the meeting] !
[name of the meeting] is part of the European Athletics Promotion circuit, in which any athlete member of the EAP has the privilege to participate, with respect of our values and principles.
There are [total number of meeting] EAP meetings in [total number of meeting] countries."
Athletes information welcome sheet
Directional signage on the stadium
Call-Room main information poster
EAP Prize Money and Bonus system
Athlete's instructions, regulations, prize money structure, tourist information, travel tips, ...
Doping Control room
Warm-Up area,
VIP Lounge
Athletes corner
Timetable and instructions
PDF file to be printed for distrubution at local, regional or international events and championships, by our MO.
Sample file to help MO find partners and sponsors. Includes a list of standard products to support and quantitative arguments illustrating the potential for visibility at national and international levels.
Download the EAP trailer, in MP3 format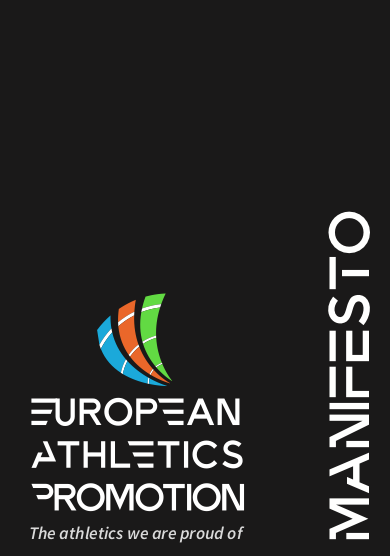 PDF file (A6 format ) of the declaration of who we are, what we do and why we do it this way.
It presents our history, our convictions, our values, our structure, the way we organize our meetings, the significance of promotion, what sets us apart and characterizes, our pioneering position against doping, our idea of the development of athletics in Europe, our vision and why we believe in this Athletics and that we adhere to the concept of TrueAthletics.
This manifesto reminds us why we organize meetings and it also serves to make us known and to be supported by sponsors.