EAP 2021 Convention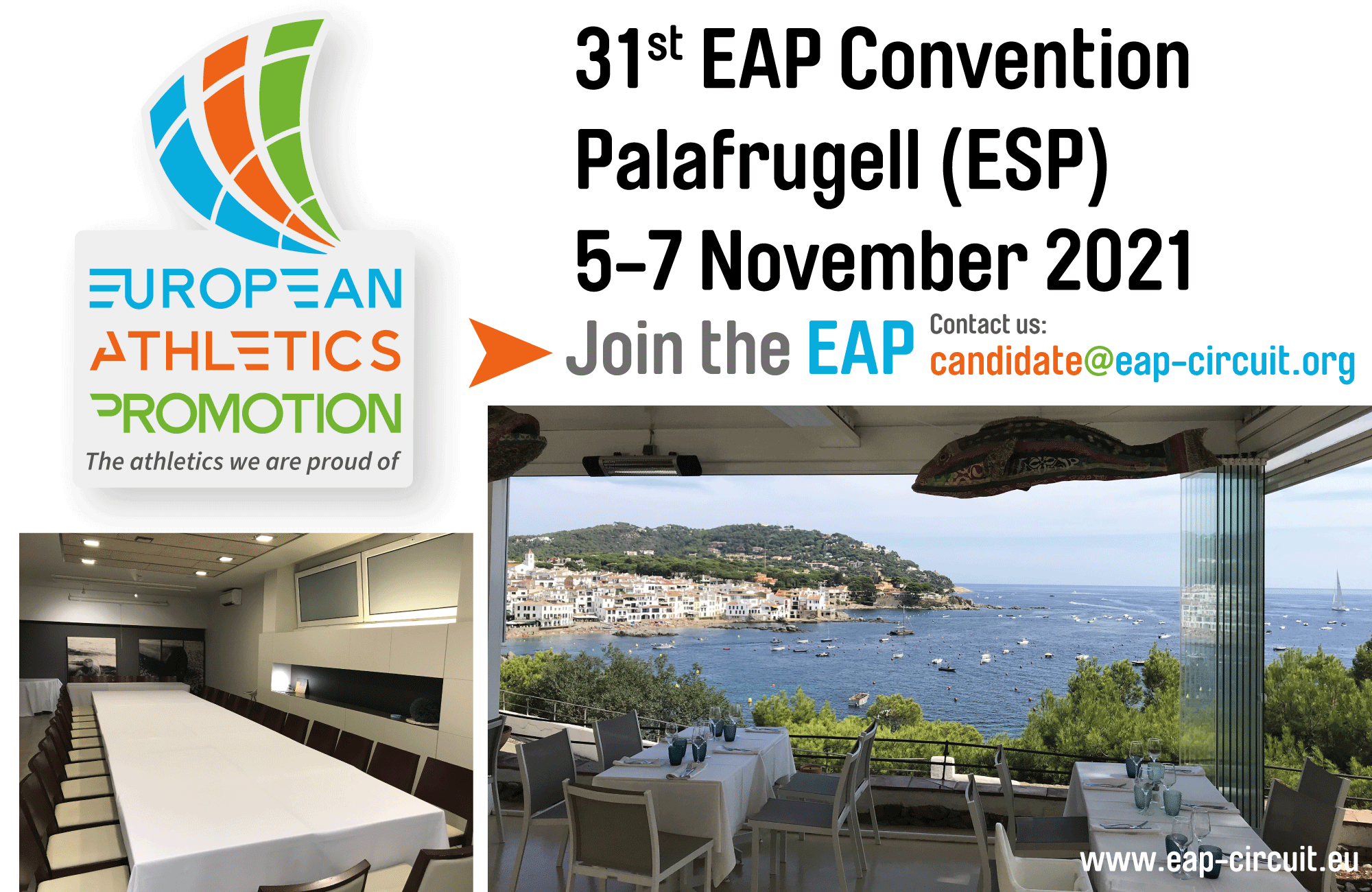 It will be the return to a congress in attendance, one of the pillars of our organization. The strength of the circuit's meetings revolves in part around this congress where everyone meets and exchanges their experiences, their projects, but also strengthens their friendly ties.
EAP is a kind of big family, where the objective remains the development and promotion of athletics. We will even add the defense of the basic principles of our sport, principles which are sometimes called into question by other criteria and extra-sporting requirements, dictated by spectacle sport, sport business.
But this will be exchanged during the congress where we will alternate plenary and decision-making sessions and workshops.
The EAP is developing and is opening up to new countries where our principles of promotion are welcomed with great enthusiasm and interest from the organizers but also from the federations.
Athletes need competitive opportunities abroad. This is the engine for progress in addition to the fact that thanks to our "QMP" program (which is being set up), each athlete will be guaranteed to find quality meetings, capable of making them progress. Our ambition, through our labeled meetings, is to offer them a career path that can prepare them at the highest level.
It is also one of the themes of the congress, which will debate through projects over 3 years, on our role of active support towards major events, such as:
World Championships: Oregon / USA July 15-24, 2022
European Championships, Munich / GER, 15-21 August 2022
World Championships: Budapest / HUN 19-27 August 2023
European Championships, Rome / ITA, August 27 - Sept 01, 2024
Olympic Games: Paris / FRA 26 July - 11 August 2024
World Championships: (place to be assigned) 2025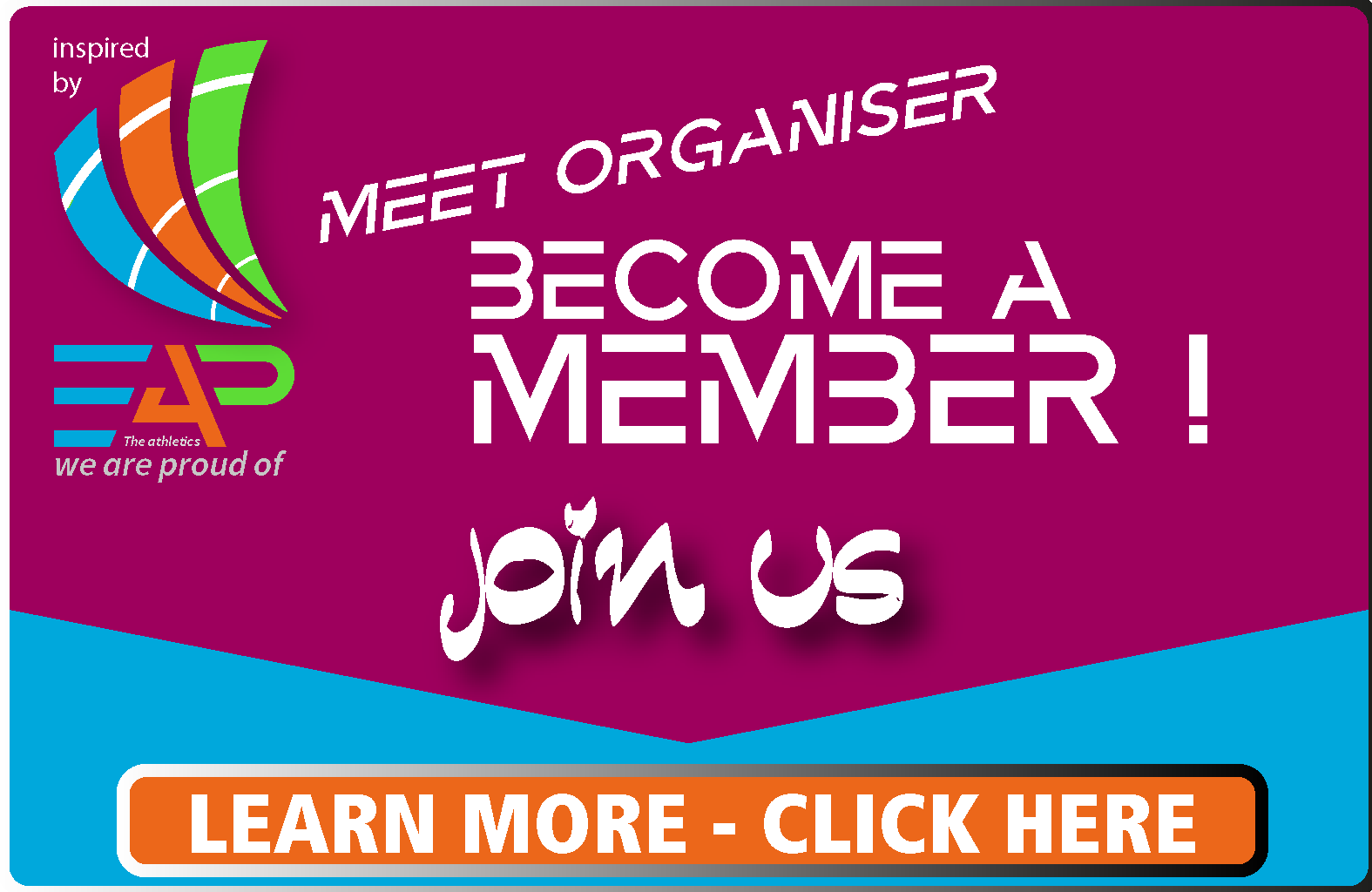 We have also developed a tailor-made tool for the management of meetings, knowing just as well (and intuitively) how to manage collaboratively and in real time, all aspects of the competition (from registration to the start lists) and hotel management, transport, budget, managers, groups and delegations, but also provide all kinds of statistics (countries) and totals (meals, overnight stays, costs, number of countries, categories, etc.) by athlete, group , manager, discipline, etc.
It also allows you to generate participation contracts or invitation documents. From an accounting point of view, the meeting closed, it will allow the treasurer to reimburse travel expenses and pay the prize-moneys won.
All this, in a collaborative way because the organizers of the meeting can follow the exchange of emails and intervene in the discussion thread. This means that an organizational team can share the tasks. In short, an essential tool that we have been waiting for a long time and which will allow all our members to improve the quality of the organisation.
But that's not all ! This tool will also, following the latest announcements from World Athletics, allow direct access to athlete profiles. In other words, at the time of registration, it will suffice to provide the athlete's ID, so that all up-to-date data is transmitted automatically to the organizer. A real revolution (finally)!
The provisional agenda
EAP members or athletics enthusiasts (non members) can contact us with proposals of items any points to be considered for the Agenda, please send it to convention@eap-circuit.org
Main topics:
General overview of the 2021 EAP season
EAP Status: Creation of the EAP association, statutes and new bank account
New meeting candidates
Statistics
WORKSHOP: Quality Meeting Program (QMP):  goals, principles and criteria
WORKSHOP: EAP Code of Conduct and I Run Clean® program
WORKSHOP: Erasmus+ for sport: new development and communication perspectives
EAP Governance

 Treasurer
EAP Budget 2022-23-24
EAP Annual fees
EAP Travel reimbursement calculator
EAP Internal limits
EAP Kits

Data evolution, needs and direct implications

Feedback from the AthTech21 in Zadar (22-24 Sept. 2021)
Feedback from the European Athletics Convention (14-17 oct. 2021)

WORKSHOP: EAP Toolkits

Wondermeeting : the EAP collaborative Meeting Management tool

Addition of a new experimental EAP MASTER circuit
WORKSHOP: EAP strategic communication partnerships
2022-2025:  the EAP commitment to prepare athletes and athletics to the olympics