Belfast: results 2021
Athletes from across Northern Ireland, Ireland, UK and Europe took part in the Belfast International Meet at the Mary Peters Track on Saturday 11th September, as a fitting end to the track and field season for many.
By Brian Hill and Athletics NI Marketing.
Source: https://athleticsni.org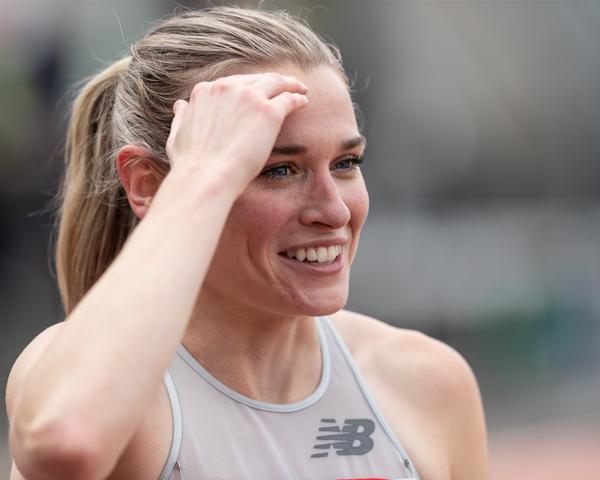 Commonwealth Games athlete, Katie Kirk ended her season with a victory in the Women's 800m against tough competition, setting a new PB and achieving the Commonwealth Games Consideration standard. Despite the stiff competiton from Belgium's Vanessa Scaunet and Ireland's Jenna Brommel, who Katie had recently beaten in a BMC event in London, Katie edged to the front with only 30m to go, and took the win in a time of 2:01.94, with Scaunet in 2nd in 2:02.05 and Brommel in 3rd in 2:02.87.
Following the race Katie spoke with Belfast Telegraph correspondent, Brian Hill, saying: "This is my last race of the season - I've had 16 two lap races this year. I knew I had it in me today but I wasn't entirely sure with 150m left. I want another Championship like the Commonwealths in Birmingham next year."
In the Men's 100m a relaxed Leon Reid had a close defeat by Denmark's Fredrik Schou-Nielsen who took the win by a hundredth of a second in 10.46 secs, over Reid in 10.47. Only last month the two athletes had been in Tokyo, with Schou-Nielson taking part in the 4x100m Relay where Denmark set a new National Record.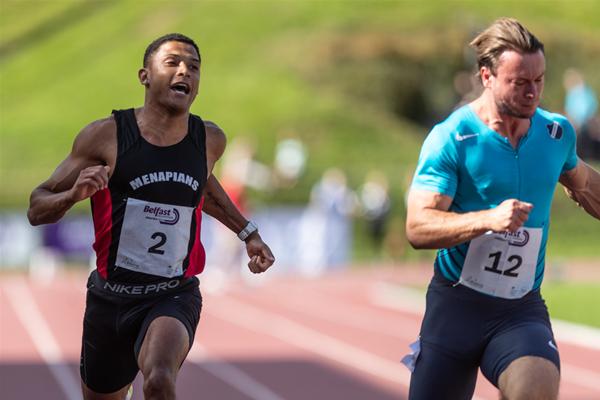 Tokyo Olympics 200m semi-finalist Leon commented: "I wanted to come here though it's very late in the season. I missed my plane here because of a train fatality in London. I really enjoyed the Olympics though I would have liked more preparation time. I'm aiming for the Birmingham Games " .
In the Women's 100m, Ireland's Cliodhna Manning finished 1st in 11.95, ahead of Janine Boyle and Belgium's Marilyn Alabiso in a joint 2nd place in 12.19. North Down AC's Eve Walsh-Dann set a new PB with a time of 14.26, which moves her into 7th place in the T38 Commonwealth Games rankings, with 7 places to be selected at the end of 2021.
The Women's 100m Hurdles was unfortunately a limited field due to Covid-19 problems. This did not prevent Ireland's Sarah Lavin recording a track record victory of 13.22s. Tokyo Olympian Lavin is only the second Irish woman to break 13 secs when she recorded 12.95 secs in Madrid.
She said: "I went for 7 years without breaking my PB. The difference this year is that I've now injury free and have moved to train full time with my coach in Limerick ".
Ireland's Luke McCann was the class act in the 800m, having hit top form late in the season with PB's over 800 and 1500m. He did not disappoint on Saturday, with a 52s first lap which no one could match. In the home straight he was in a league of his own to take an easy victory by over a second in 1.47.77 from Garrett O'Toole of the USA.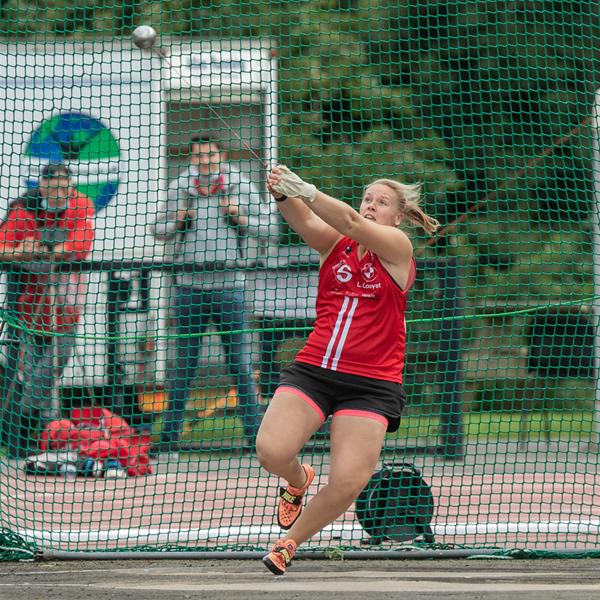 There was also a dominant win for Simon Denissel of France in the 1500m in 3.41.38. He was followed by NI's Neil Johnston who ended his season in style with another PB of 3.42.23 just ahead of Ireland's Robbie Fitzgibbon in 3.42.89.
As expected there was a Stadium record in a high class Women's hammer event, with Belgium's Vanessa Sterckendries winning in 65.55m ahead of Switzerland's Nicole Zihlmann with 64.19m, with Ireland's Nicola Tuthill in 3rd place with 56.28m.
Equally impressive in the Men's Javelin was England's Joe Dunderdale whose 68.95m throw late on just pipped local NI star Gareth Crawford. Gareth relied on his unique somersault technique to secure second with 68.88m from England's Benji Pearson in 3rd with 67.95m.
England's Alex Haydock-Wilson was a comfortable winner in the 400m with 46.64s, ahead of England's Dan Putnam in 47.46 who had been on Pacer duty earlier in the day for the Men's 800m; and Ballymena & Antrim Ac's Craig Newell in 3rd in a time of 48.17.
The Mike Fulton Memorial Mixed Discus competition was won by local masters athlete, Colin Clear with a throw of 32.96m, ahead of Dougie Durrant (Invictus) throwing 31.42m and Lifford Strabane AC's Ross Henderson with a throw of 28.92m.
The Netherland's Glenka Antonia won the Women's High Jump competition, clearing 1.83m ahead of England's Bernice Coulson in 2nd place with 1.77m and European U20 Silver Medallist, Sommer Lecky in 3rd, clearing 1.73m.
Switzerland's Michele Garlinski was victorious in the Women's Long Jump with a jump of 5.65m, ahead of City of Lisburn duo, Erin Fisher in 2nd with 5.53m and Abby Tate in 3rd with 5.18m. In the Men's Long Jump, City of Lisburn AC's Ben Fisher finished in 1st place with a jump of 7.17m, ahead of team mate, Jordan Cunningham with a jump of 6.97m, who also won the U20 Men's Multi-event competition. In 3rd place was Ballymena & Antrim AC's Jonny Cochrane with 6.55m.
North Belfast Harriers were victorious in the first of the unique team events, winning top club in the Women's 2000m Team Event, and 1st Individual as Roise Roberts finished in 6:31.56. In 2nd place was Dromore AC's Nadia Radcliffe in 6:43.65 and 3rd place went to North Belfast's Natasha Henderson in 6:54.27. In the Men's 3000m team event, Annadale Striders team won 1st club and top 3 individuals, with Luke Dinsmore in 1st in 8:40.47, to take the Fearghal Devlin Memorial prize. Team mate Adam Spratt was 2nd in 8:42.05 and Eskander Turki finished in 3rd place in 8:46.19.
There were a number of junior events throughout the day, providing the opportunity for upcoming athletes to share the track with their sporting heroes. In the U15 Girls 100m, Finn Valley AC's Riona Doherty won in a time of 12.97, with City of Lisburn Ac's Siofra Lavery in 2nd in 13.33 and Amy Cullen from Cranford AC in 3rd in 13.34. Lagan Valley AC's Mevlin Duru won the U15 Boys 100m in a time of 11.45, with City of Lisburn Ac's Arnar Brynjarsson in 2nd in 11.57 and Loughview AC's Jayden Booth in 3rd in 11.61.
The Flahavan's Cross Country Squad for 2020-2021 competed in a 1000m track event, with Willowfield Harrier's 13-year-old World Record Holder over 5k, Emer McKee, winning the Girls event in a time of 2:53.23. Team mate, Kari Foster finished in a strong 2nd place in a time of 3:22.71, and Enniskillen's Annie McEvoy finished in 3:24.43 for 3rd. Willowfield Harriers' Noah Watt won the Boys event in a time of 2:59.86, with Mid Ulster AC's Henry Curley in 2nd place in 3:09.49 and North Down AC's Aodhan Keag in 3rd place in 3:10.72.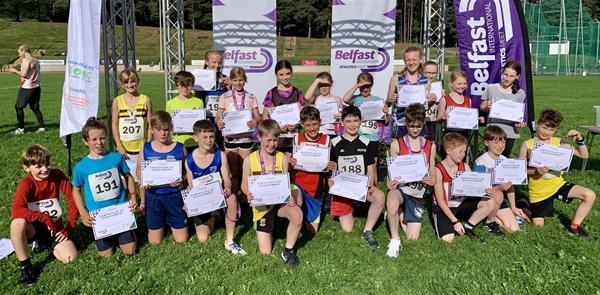 As part of the Northern Ireland Office's Centenary programme, athletes from across Northern Ireland took part in the Children's Summer Scheme throughout August and September coached by local clubs, with the Top 3 Girls and Boys from each region competing in a final multi-event day during the Belfast International. The athletes, aged 9-11 years, competed in the 60m, Standing Long Jump, Turbo Javelin and the 400m, representing their region. The Girls 60m event was won by Anya Duffy in a time of 9.17, with Devon Booth in 2nd place in 9.32 and Isla Wiltshire in 3rd in 9.58. The Boys event was won by Charlie Duggan in 8.81, followed by Andrew Jamison in 2nd in 9.21 and Karl Murray in 3rd in 9.36. Isla Wiltshire returned to the podium in the Girls Standing Long Jump, winning with a jump of 1.85m, followed by Anya Duffy with 1.84m and Ava Doran with 1.82m. Karl Murray won the Boys Standing Long Jump with 1.89m, with Ethan Connolly in 2nd with 1.83m and Charlie Duggan in 3rd in 1.80m.
Anya Duffy led the Girls Turbo Javelin, throwing 25.93m, with Ava Doran in 2nd, throwing 24.83m and Eva McCabe in 3rd, throwing 17.90m. For the Boys, Karl Murray led, throwing 29.90m, with Ethan Connolly in 2nd with 28.80m and Thiago Hill in 3rd with 27.27m. The final event for the Primary School children was the 400m, where Ava Doran won the Girls event in 1:11.89, followed by Isla Wiltshire in 2nd in 1:12.86 and Jessica McCartan in 3rd in 1:123.49. Charlie Duggan won the Boys 400m in a time of 1:07.55, with Andrew Jamison in 2nd place in 1:08.68 and Cormac Leheny in 3rd in 1:11.43.
We would like to thank the Northern Ireland Office for their support for the Children's Summer Scheme and the Belfast International.
Written by Brian Hill and Athletics NI Marketing
---
Full results can be found here: www.athleticsni.org/Results
The live stream footage from the day's events can be viewed on our Youtube channel here: https://www.youtube.com/user/AthleticsNI/videos
Photos from the day can be found here, courtesy of Bob Given Photography: https://www.flickr.com/photos/athleticsni/
Link to the event's main page: Belfast International
2021 results also available on https://athleticsni.org/Results or clicking here below.
EAP-Results2021-BelfastInternational