Kuldiga: great success !
"Sold-out" at the EAP Kuldiga indoor meet (LAT). A large crowd to assist at the "Kuldīgas Katrīnas kauss"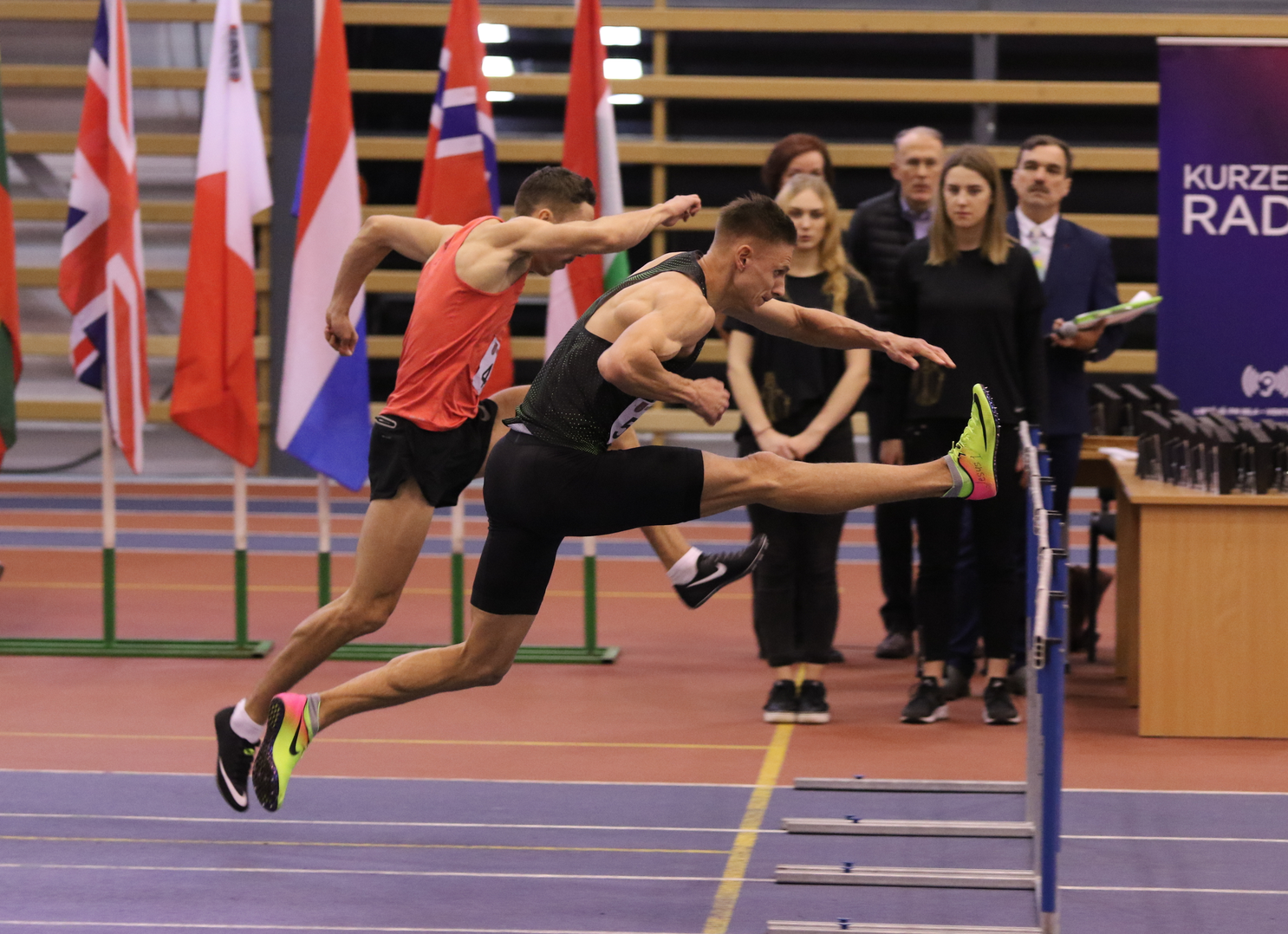 Freely translated from: https://athletics.lv
158 athletes (97 men and 61 women) from 12 countries gathered in the Kuldiga Athletics Indoor track to compete at the 10th edition of the "Kuldiga Catherine's Cups". The jubilee had also attracted an unusually high number of spectators - Kuldiga had not seen so many spectators long ago. And the athletes responded with intense fighting and high-quality results.
60m sprint. The Estonian sprinter Henri Sai dominated the event. He was fastest in both the pre-qualifier with 6.86 sec and the final with 6.84 sec. Third with a score of 7.04 sec. - Christopher Cham. Elvis Misan was also fast in the pre-qualifier (6.94 sec), but after winning the long jump he gave up his start in the final race.
In the women's finals, the race record was also nearly broken (7.34 seconds by Sindija Bukša 2019). However, the victorious Gina Akpe-Moses missed Ireland by three hundredths of a second (7.37sec). Second place winner Sindija Bukša finished her season with a time of 7.51 sec. Good results for Līgai Vecbērzai (4th in final 7.57 sec, in the heats 7.55 sec).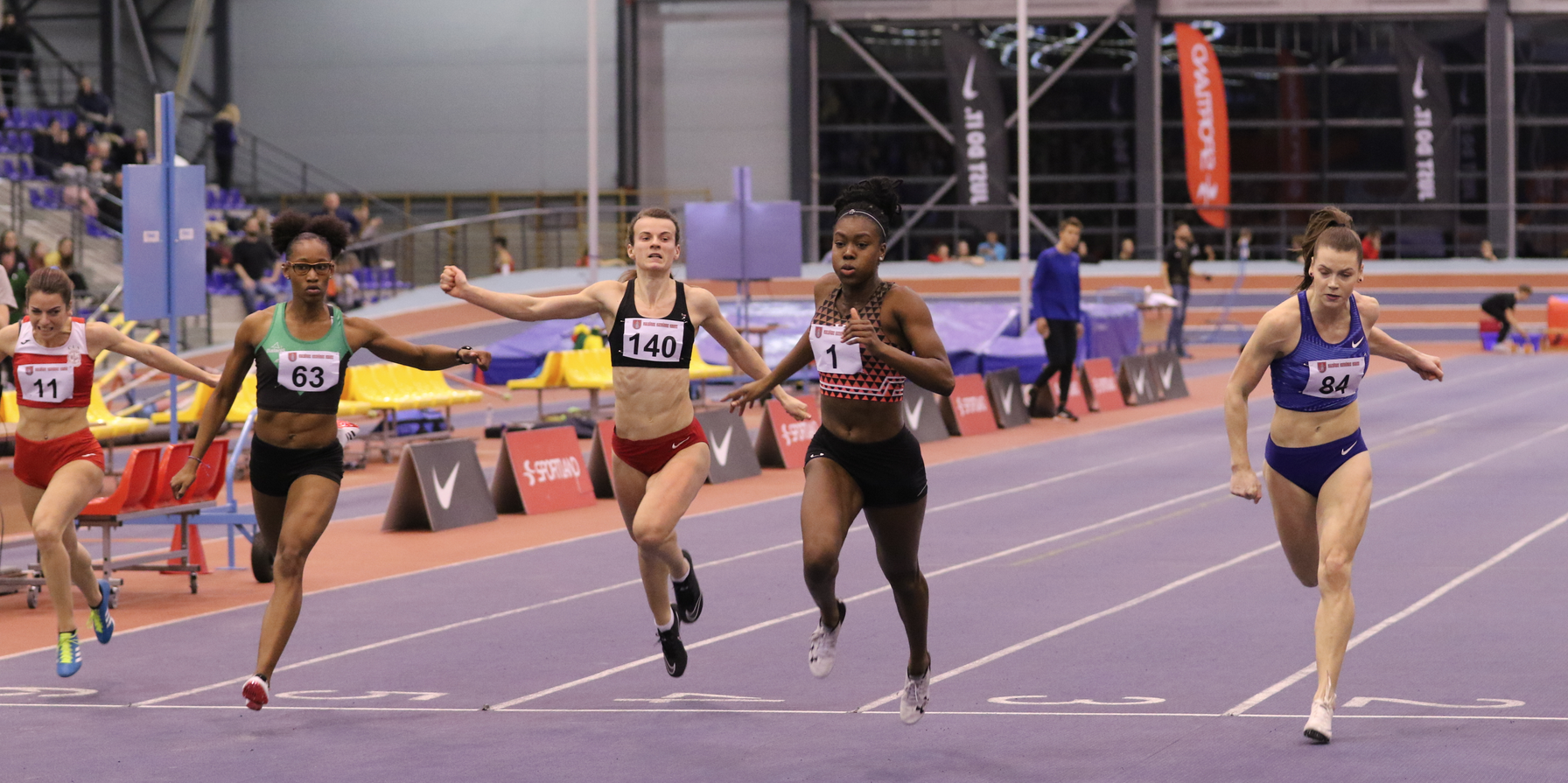 400m Iļjas Petrušenko's victory with an excellent personal record of 47.88 sec. This is not only the repeated "Cup" record, but also the ninth result of all time Latvian runners in indoor starts. In the third place, the best Latvian 400m hurdler Maxim Shinukov - 47.89 sec.
In the women's 400m, just a little better than the Latvian athlete Māru Annu Zīverti (56.96 sec) was Kima Rozena from the Netherlands (56.92 sec). Here, too, third place for Latvian Patrīcijai Cīrulei (57.95 sec).
1000m A true and stormy ovation was sparked by the victorious finish of the homemade Uģis Jočis in the 1000m distance - 2:26.64. Third place winner Oskars Bambals could be happy and pleased. His performance of 2: 28.00 is a new record for Latvian junior (U20) indoor.
The Belarus Tatsiana Šabanova dominated the women race. Her performance (2:42.88) was only half a second behind Līgas Velveres's "Cup" and last week's record (2: 42.30).
60m Hurdles Both winners in this discipline have the same last name - Parakhonka. Both are from Belarus and both hurdlers have achieved very good results. Vitaly Parakhonka twice corrected the "Cup" and the manege record (7.83 sec) - 7.82 sec. And in the final - 7.81sec. Sviatlana Parakhonka, on the other hand, got close to these records (8.22sec) and won with a score of 8.24 sec. achieved the highest competition grade (WA tables) - 1107 pts.
Among Latvian hurdlers the most successful was junior Patrīcija Ozoliņa, who finished fourth with the best result of the season in Latvia - 8.86 sec.
High Jump women more modest results. Viešna from Lithuania Urte Baikštite was the best with a score of 1.80 m. Second Zane Zemīte - 1.71 m and third Amanda Savicka - 1.68 m.
Unlocking our leader Marekam Ārentam, Ēriks Greibrok Dolve from Norway won his third Cup win. In the third place Juris Avsiščers and Uvis Strazdiņš - 4.15 m.
Men's Long jump sixth win in the Cups was fought by Elvis Misan and also won. True, after two unearned jumps, he had to catch up and reach the finals. Elvis did the honor - two long jumps - first at 7.49m and finally at 7.50m. Along with two victories in the 60m sprint, Elvis now has eight "Kuldiga Katrina Cups".
In the first jump for women, Ruta Kate Lasmane - 5.89 m. However, in the final jump, she was overtaken by the British distance jumper Rebecca Chapman - 5.90 m.
Last year's anniversary competition showed that athletes, and spectators in particular, are very much at the heart of such a long but intense competition.
Hopefully a new decade of "Cups" will start in Kuldiga in a year.
Andris Staģis