Mid EAP Season, meet ranking
At the mid season, the traditional EAP meet ranking shows the first 10 meets (incl. indoor meets).
Geneva is still leading the ranking (14 times at the first place), but the meet had to be interrupted due to an incredible thunderstorm before the end and 5 events could not be finished,  4 others did even took place. Its EAP ranking record of 80786 pts (set in 2018) was about to be largely beaten.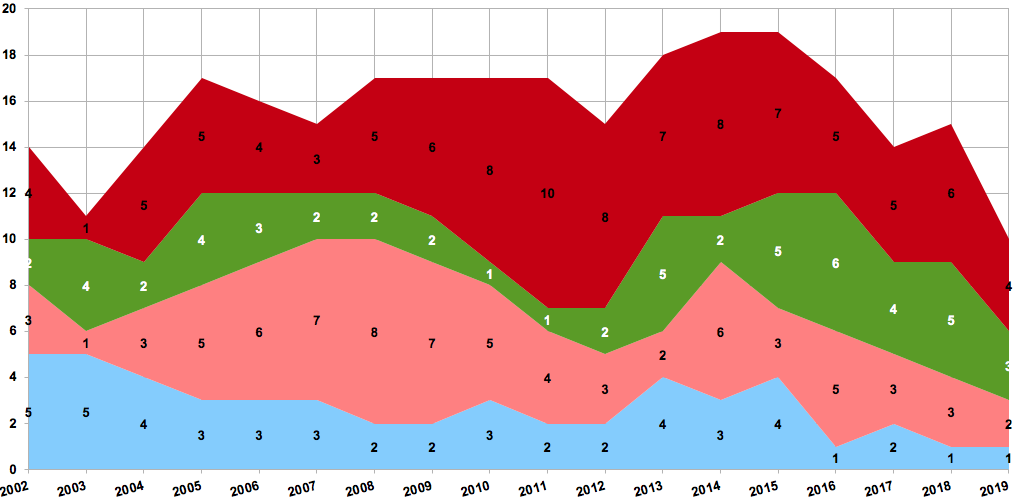 Remarkable, the continuous and regular growth of Budapest. In 5 years it goes from 69008 to 73304 pts following a linear progression and for the first time over 73000 pts. which allows it to  take the provisional 2nd place. Surprisingly for the first time over Nivelles (71061) who realizes its lowest scores since 2002, despite hosting this year its second highest number of foreign athletes and, alltogether number of participants.
At a provisional 4th place, Valence whose 66017 pts show level constancy, despite some weakness in international participation.
Palafrugell, organised, meanwhile the catalunian youth championships, a youth meet,
At this time of the season some strong meets have still to come.
The first 5 places will probably be changed by Celle Ligure (18th July), Loughborough (6th August) or the newcomer Belfast (1st August).
We are looking forward, in 2020 for the comeback with a new track of Namur and also with a new organisation in Amsterdam (indoor or outdoor ?) and Aarhus. And for sure, some newcomers !
Provisional ranking: status 27 June 2019
| | | | | | |
| --- | --- | --- | --- | --- | --- |
| 1 | 79670 | GENEVE | SWITZERLAND | 15.06.19 | |
| 2 | 73304 | BUDAPEST | HUNGARY | 08.06.19 | |
| 3 | 71061 | NIVELLES | BELGIUM | 22.06.19 | |
| 4 | 66017 | VALENCE | FRANCE | 01.06.19 | 70 PERFORMANCES |
| 5 | 62578 | PALAFRUGELL | SPAIN | 18.05.19 | YOUTH MEETING |
| 6 | 61817 | MARSA | MALTA | 04.05.19 | |
| 7 | 59021 | KULDIGA | LATVIA | 19.01.19 | INDOOR MEETING - 60 PERFORMANCES |
| 8 | 46857 | CATANIA | ITALY | 27.04.19 | 59 PERFORMANCES |
| 9 | 42994 | LEIRIA | PORTUGAL | 01.06.19 | YOUTH MEETING - 68 PERFORMANCES |
| 10 | 31707 | DOUR | BELGIUM | 10.02.19 | INDOOR MEETING - 35 PERFORMANCES |